That their light may always shine...

Thank you for joining us at 8:00 p.m. on August 7, 2004, for the first Annual Nationwide SMA Candle Lighting Event. August is SMA Awareness month, and as such, we choose to use the 2nd Saturday in August every year as a time to reflect on those lost, as well as to honor those living daily with SMA. As this event continues to grow, we hope to bring awareness to the public about the disorder as well as unity to the families living with it, as we all join to spread the light of our candles around the world. We hope you will join us next year, on August 13, 2005, for the 2nd Annual Nationwide SMA Candle Lighting.

Spread the light-and the word.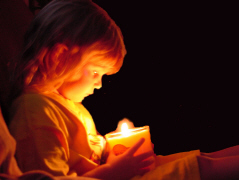 (Kaylee Stants in honor of Taleah English)

Karen Slavik and family light their candles on St. Pete Beach in Florida in honor of their two angels Eric and Jessica.