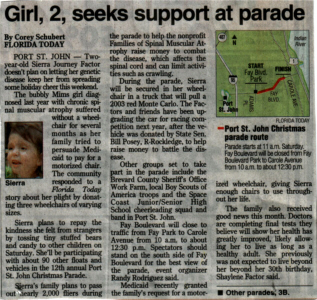 Girl, 2, Seeks Support at Parade
By Corey Schubert
PORT ST. JOHN-- Two-year-old Sierra Journey Factor doesn't plan on letting her genetic disease keep her from spreading some holiday cheer this weekend.
The bubbly Mims girl diagnosed last year with chronic Spinal Muscular Atrophy suffered without a wheelchair for several months as her family tried to persuade Medicaid to pay for a motorized chair. The community responded to a Florida Today story about her plight by donating three wheelchairs of varying sizes.
Sierra plans to repay the kindness she felt from strangers by tossing tiny stuffed bears and candy to other children on Saturday. She'll be participating with about 90 other floats and vehicles in the 12th annual Port St. John Christmas Parade.
Sierra's family plans to pass out nearly 2,000 fliers during the parade to help the nonprofit Families of SMA raise money to combat the disease, which affects the spinal cord and can limit activities such as crawling.
During the parade, Sierra will be secured in her wheelchair in a truck that will pull a red 2003 Monte Carlo. The Factors and friends have been upgrading the car for racing competition next year, after the vehicle was donated by State Sen. Billy Posey, R-Rockledge, to help raise money to battle the disease.
Other groups set to take part in the parade include the Brevard County Sherriff's Office Work Farm, local Boy Scouts of America troops and the Space Coast Junior/Senior High School cheerleading squad and band in Port St. John.
Pay Boulevard will close to traffic from Fay Park to Carole Avenue from 10 a.m. to about 12:30 p.m. Spectators should stand on the south side of Fay Boulevard for the best view of the parade, event organizer Randy Rodrigues said.
Medicaid recently granted the family's request for a motorized wheelchair, giving Sierra enough chairs to use throughout her life.
The family also received good news this month. Doctors are completing final tests they believe will show her health has greatly improved, likely allowing her to live as long as a healthy adult. She previously was not expected to live beyond her 30th birthday, Shaylene Factor said.