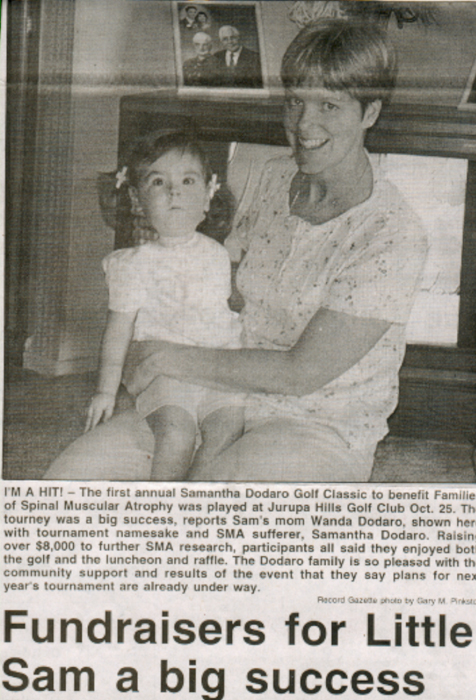 Fundraisers for Little Sam a Big Success
San Gorgonio Pass--Family and friends of 21-month-old Samantha Dodaro of Cherry Valley, a child who suffers from the congenital disorder Spinal Muscular Atrophy, launched the First Annual Samantha Dodaro Golf Classic to benefit the Families of SMA last week at Jurupa Hills Golf Club. The Dodaros also held a successful garage sale of personal and donated items over Labor Day weekend to defray the high costs of Samantha's medical bills.
Both events succeeded beyond the families expectations and they want to thank the community and the tournament's supporters for making it all possible. The proceeds of the golf tournament will go to support research into the treatment and eventual cure for SMA. The money raised at the garage sale will go directly into Samantha's personal trust fund for her medical expenses.
Played Thursday, Oct. 25, the golf tournament raised more than $8,000 for SMA research. The tournament attracted 65 golfers and an additional 40 people for the following luncheon and 50-50 raffle.
"The support was great," says Samantha's mom, Wanda Dodaro. "We sold so many hole sponsorships (26) we had to double up the banners on a lot of holes. But the sponsors all said that was OK. They just wanted to have their banner on the tournament somewhere."
"We really need to thank a lot of people and businesses for helping us out the way they did. We had $3,500 in donated prizes for the tournament and raffle. We were able to give away Hotel and Resort stays in Palm Springs and Laughlin and admissions to amusement parks like Disneyland, Leggoland, Magic Mountain and Universal Studios. We also gave away a lot of golf equipment donated mostly by individuals. Our grand prize was a donated 27" color TV."
It takes a lot of manpower to put on a decent charity golf tournament and the Dodaros find themselves indebted to the volunteers who helped make this, their daughter's first event, a success.
"All our volunteers were terrific," says Wanda. I can't thank them enough. I especially need to thank Tom Umek of Cherry Valley, Karen Gates of Crestline and Heidi Bonham of Calimesa. Special thanks also go out to Naz Guerro of Ratgraphics in San Bernardino for providing all our sponsor hole banners and to Kinko's in Redlands for all our promotional literature."
The Labor Day garage sale was also a big success and raised $1,800 for Sam's medical bills.
"I'm so grateful for the outpouring from the community for the garage sale," says Wanda. "We had around 100 people come by every day. Many of them brought articles to donate with them and contributed greatly to the sale's success. They came from all over the Pass Area; Cherry Valley, Beaumont, Banning, everywhere. I want to thank the Record Gazette for that. Their support for both the golf tournament and the garage sale was far better than any of the other newspapers."
As for little Samantha, her condition has improved over the last 90 days with the application of a newly developed therapy involving a combination of the vitamins Methyl B-12 and Folic Acid.
"She's noticeably stronger," says Wanda. "She is more active and tires less easily. She also has better muscle control."
According to Wanda, there are two more therapies coming along in the next few months for SMA patients. These new therapies are intended to help keep SMA children alive long enough for research to find a long term therapy or a cure. The annual Samantha Dodaro Golf Classic is intended to help fund that research.