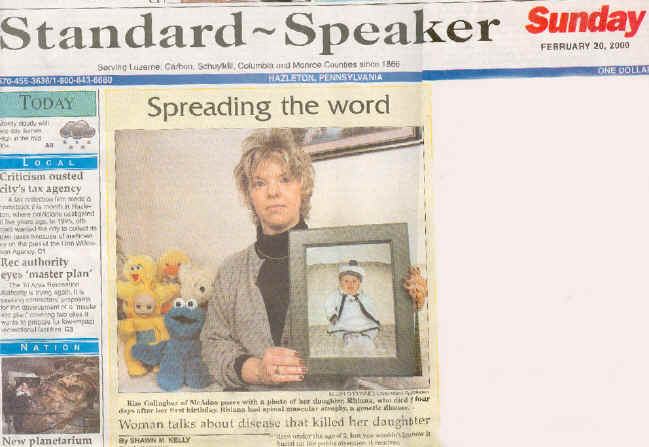 Spreading the Word by Shawn M. Kelly
On Nov. 30, Rhiana Gallagher of McAdoo celebrated her first birthday with a party.
She died four days later, the victim of a terrible genetic disease.
Rhiana had Spinal Muscular Atrophy (SMA), a disease which destroys nerve cells that control muscle movement.
She couldn't hold up her head. She couldn't roll over in her crib.
As the end of her life approached, Rhiana couldn't swallow her food and had to be fed through a tube.
Kim Gallagher, Rhiana's mother, said she doesn't like to think about Dec. 4, the day Rhiana died. "It's a nightmare you just want to wake up from and you can't."
SMA is the number one genetic killer of children under the age of 2, but you wouldn't know it based on the public attention it receives. One local pediatrician has never seen a case and actually knew very little about it.
But a disease doesn't have to be high profile to destroy families.
SMA is sneaky because parents of children with SMA both have a defective gene, but they don't show any symptoms. Their children have a one-in-four chance of inheriting SMA.
When the child is born, there are rarely any outward signs that anything is wrong. Most SMA babies seem healthy-at first.
That's what Kim remembers. "My husband and I marveled at how good she was and how blessed we were to have a child that rarely fussed or cried" she recalled.
When Rhiana was about 4 months old, Kim began noticing problems.
"When you have a child, you get these books on what they're supposed to be doing in the first month, the second month, and so on. It was my first child. I wasn't too concerned about it," she said. "She wasn't rolling over or lifting her head. I thought she was slow, developmentally. We just though she was a slow learner, and eventually she would be able to hold her head on her and and roll over."
By Rhiana's sixth month of life, Rhiana's pediatrician was becoming concerned. She sent the girl to a neurologist. Kim said the neurologist "took one look at her", performed a few tests, and made the diagnosis.
Rhiana, the neurologist said, had Spinal Muscular Atrophy, Type I. Kim didn't know what that meant.
"We were shocked, but thought to ourselves, 'That's OK if she's disabled. We'll purchase a wheelchair and love her just the same.' "
But the diagnosis was much, much worse.
"To our horror, the neurologist told us that this was a fatal disease, and most children (with SMA) don't live beyond 2 years of age. That is the day our world came crumbing apart."
Kim said the doctor required a blood test to confirm the diagnosis. She prayed while she waited for the results. Two weeks passed as Kim hoped the doctor made a mistake.
It wasn't a mistake. Rhiana had SMA.
She had less than two years of life left.
The stories on an SMA support group Web site sound alike: healthy newborn, developmental problems by the fourth or fifth month, earth-shattering diagnosis.
So far, Rhiana was following the same script.
Kim "tried to make the best of it" by taking Rhiana to the beach, to amusement parks, and other fun places. "She was such a happy baby, always with a smile on her face," she said.
Then, as the SMA script played out, there was another setback.
"One day she was drinking from her bottle and it started coming out of her nose. She went into some sort of respiratory arrest. She proceeded to turn white and stopped breathing."
Kim called an ambulance. Rhiana was revived and seemed to return to normal. She went home in time to participate in McAdoo's annual Halloween parade. Rhiana, dressed as a Penn State Cheerleader, won first place.
"She was so happy every time we would show her that trophy", Kim said.
The happiness was short-lived. A few days after the parade, Rhiana went into respiratory arrest again. She was taken to a local hospital, then taken out of town for further treatment.
SMA had destroyed Rhiana's ability to swallow. Doctors inserted a nasal-gastric tube so she could be fed. They also prescribed numerous medicines. Rhiana was sent home-but only after Kim was given more bad news.
"We were warned that she only had a couple of weeks to months to live," Kim said.
Once home, she took leave from work to care for Rhiana. The local hospice shoed her how to use the suction devices and the tubes. "My husband and I were paranoid all the time that she would stop breathing again. We could not even do simple things, like go to the store, because we were so afraid that if we left the house, she would not be alive when we returned," Kim said.
On her birthday, Rhiana received many balloons. Balloons are a great gift for kids with SMA because they feel like they are accomplishing something when they hold one, Kim said.
Despite reaching her first birthday, Rhiana was nearing the end of her SMA script.
Rhiana's crying woke Kim on the morning of Dec. 4.
Her breathing was labored. She had a fever. "I knew something was terribly wrong and I think in my heart I knew that this was the end. We called an ambulance. She passed away. By the time we got to the hospital, they couldn't revive her."
Rhiana's struggle with SMA was over.
"God saw she had grown tired of fighting this terrible disease and called her home," Kim said. "I miss her so much."
Kim is an avid supporter of fund-raisers that support SMA research.
Recently, medical researchers announced that they replicated SMA in mice, then corrected it by infusing large amounts of a certain protein.
Kim is optimistic about the research. "It looks promising right now", she said.
Kim is hoping for a breakthrough. If she has another child, there is a one-in-four chance the infant will inherit SMA.
Less than three months after her passing, Rhiana's story is on the Internet.
Kim, who turned to the Internet to get information about SMA after Rhiana's diagnosis, wrote Rhiana's story. She included photographs and poems, too.
The website is http://www.our-sma-angels.com. Once at the site, click on "Our Kids", then scroll down to find Rhiana Gallagher.
"I am writing this story because there has been a medical breakthrough in the research in fighting for a cure for this disease," Kim wrote. "I would like the whole world to know this and to help in wiping out SMA forever."