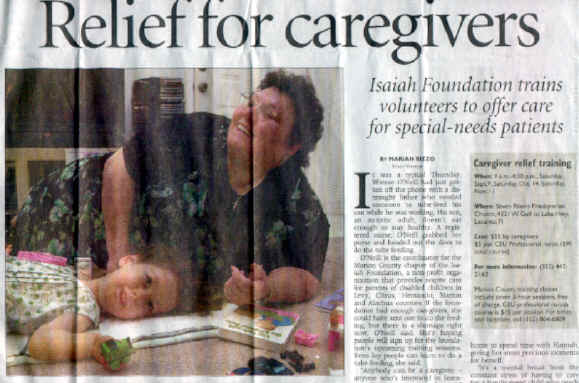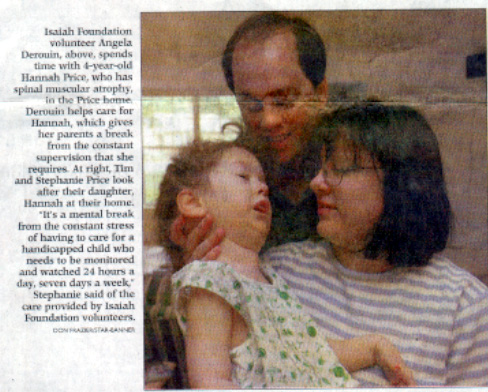 Relief for Caregivers
It was a typical Thursday. Winnie O'Neill had just gotten off the phone with a distraught father who needed someone to tube-feed his son while he was working. His son, an autistic adult, doesn't eat enough to stay healthy. A registered nurse, O'Neill grabbed her purse and headed out the door to do the tube feeding.
O'Neill is the coordinator for the Marion County chapter of the Isaiah Foundation, a non-profit organization that provides respite care for parents of disabled children in Levy, Citrus, Hernando, Marion and Alachua counties. If the foundation had enough caregivers, she could have sent one to do the feeding, but there is a shortage right now, O'Neill said. She's hoping people will sign up for the foundation's upcoming training sessions. Even lay people can learn to do a tube feeding, she said.
"Anybody can be a caregiver-anyone who's interested in learning about any aspect of special needs," O'Neill said. "We're trying to cover people that don't qualify for state services. We always have shortages, but every time I pray, God sends me one."
Paula Gross recently joined the Isaiah Foundation as a caregiver and has assisted with two cases. A former educator, Gross likes to read to thee children. The agency matches the caregiver to the client, she said.
"You get just what's suited to you," Gross said. "That's why it's so miraculous. A lot of the time, they need two people, a caregiver and a nurse. Sometimes, I do wash or cleaning and free the parents up."
Gross and another caregiver, Angie Derouin, often visit the home of Tim and Stephanie Price to play with their daughter, Hannah, who was born with Spinal Muscular Atrophy and needs constant supervision. Now 3, Hannah defied doctor's predictions that she would not live to see her second birthday. In addition to thee caregivers, Hannah gets home nursing care through Nurse Finders of Ocala.
Derouin got to know Hannah when she worked as a home-based educator with ARC's Early Intervention Program. After she retired, she continued visiting the Price home to spend time with Hannah, giving her mom precious moments for herself.
"It's a mental break from the constant stress of having to care for a handicapped child who needs to be monitored and watched 24 hours a day, seven days a week", Stephanie said. "I can at least take a shower when Angie's here, because she can scream at me when Hannah is in distress. She knows the signs well enough. That's what's so great about the Isaiah Foundation. I can have one of the caregivers come in to watch Hannah, and then Tim and I can go out for an hour or two and get a Coke."
So far this year, the Marion County chapter of the Isaiah Foundation has assisted 40 clients out of 122 that signed up. At least one-quarter of the children are severe cases requiring special equipment such as wheelchairs, leg braces or respiratory machines. The organization has 56 caregivers, with 20 currently active.
Prior to referral, caregivers must have a local screening and background check. Caregivers are paid $6 per hour, plus mileage. Parents pay some of the cost based on a sliding scale, and the foundation picks up the difference, O'Neill said.
O'Neill teaches seven three-hour classes at no cost and also offers a CEU (continuing education units) course for professional nurses for $15 per class. Classes focus on health practices, feeding difficulties, airway management, vision and hearing deficits, motor difficulties and behavior problems. Also available is a 10-hour Red Cross CPR and first aid certification course for $25.
O'Neill said parents of special needs children often work and then come home to the stress of taking care of their child. They could use a break, she said.
"They want to take a day off or sleep in or go out to dinner," O'Neill said. "They don't get two or three hours to just chill out. These parents would like to go to a wedding. They'd like to go visit relatives and have somebody they trust to leave their child with for the week. One mom didn't want anyone to care for her child, but the laundry and the housecleaning were piling up. You want us to run a vacuum? Fine. You want us to do dishes? Fine."
The Isaiah Foundation started in Levy County in 1984 when Penny Phares, a registered nurse practitioner, conducted an assessment of 16 Florida counties, turning up 361 families with special-needs children who could benefit from respite care. A Bible passage in Isaiah Chapter 58 had alerted Phares to the importance of helping those in need. In 1991, Phares held the first training course for caregivers. She hold s three intensive classes, twice a year.
The program started as a service for special-needs children up to the age of 21 and later expanded to include adults with disabilities and special-needs children with behavior problems. The program grew from one family in 1992 to more than 150 families being served this year. The initial five caregivers expanded to 80, and the budget increased from $200.00 the first year to $35,000.00 in 1999. This year, the Marion County Chapter received a grant from United Way for $25,000.00 which helped a lot, Phares said.
In addition to funding, the greatest need right now is to train additional caregivers, Phares said.
"More caregivers are needed per family because these people do this part-time," she said. "If it weren't for them, there wouldn't be any respite care, and then the parents wouldn't get a break and the family wouldn't have that support. The caregivers become a trusted friend. These families are leaving them with their most valuable possession-their child."